Le Papillon Source Inner Africa - New Global Forest Governance
LE PAPILLON SOURCE INNER AFRICA, or the path to the New Global Forest Governance - 2030 Forest Planet Objective
Alternative and Experimental Forestry Activities in Private Forests
"THE MESSAGE OF A FOREST TO THE INTERNATIONAL COMMUNITY".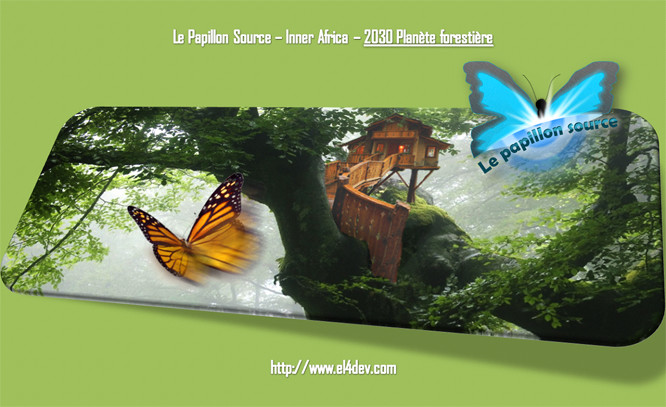 Introduction :
Forests are a Vital Heritage for the Earth and Humanity
Forests now cover 31% of the world's land area.
60 million indigenous peoples are almost entirely dependent on forests.
300 million people live in or around forests.
More than 1.6 billion people depend to varying degrees on forests for their livelihoods.
Four centuries ago, 66% of the land was covered by forest, today, only a third.
80% of the world's original forest cover has been felled or degraded, mainly in the last 30 years.
Between 1990 and 2000, more than 14.2 million hectares of forest disappeared. From 2000 to 2012, 23 million hectares of forest have been destroyed.
Deforestation affects all tropical forests, particularly in the Amazon, Equatorial Africa and Southeast Asia (Indonesia).
In 2014, deforestation continued at an alarming rate with 13 million hectares of forests being destroyed each year worldwide.
Agricultural expansion is the main cause of deforestation in the world: oil palm plantations, the development of crops for industrial livestock, mining of precious metals and minerals are major causes of deforestation.
Many poor and itinerant small farmers also participate in deforestation: they clear and burn the forest to seed small plots of land.
The ecological importance of the forest is enormous (biodiversity, climate, soil stabilization, etc.).
It was a primary forest: the Congo Basin Forest
Congo Basin Forest (Central Africa) is the second largest tropical forest block after the Amazon: it represents 8% of the world's forest area.
This forest is shared between six Central African countries (Cameroon, Equatorial Guinea, Gabon, Republic of Congo, Democratic Republic of Congo, and Central African Republic).
It is a tropical evergreen rainforest (evergreen).
This type of forest is in regression in all continents.
It now exists only in a fragmented way in Africa.
It is the richest forest in terms of specific diversity, both for trees and for flora and fauna in general (up to several hundred species of trees per hectare, compared with a maximum of ten or so in temperate environments).
It is home to Africa's greatest biodiversity
80 million people live in or near this forest.
Congo Basin is a hub for illegal logging
The challenge is to reconcile the preservation of this natural area with economic and human development, by giving priority to sustainable management of these forests.
You understand what is at stake and wonder how to ACT?
THE CONCEPT DEVELOPED BY THE EL4DEV PROGRAM:
Multi-functional forest
Forest food bank
Forest garden
Conservatory forest
Experimental Forest
Educational Forest
Connected Forest
Spokesperson Forest
Vitrine Forest
Because ecology is first and foremost about restoring and developing the forests of the WHOLE WORLD.
A unique project in the world of a "spokesperson forest" for humanity
To stop destroying our forest ecosystems
But Use them Differently, Restore them, Enrich them, and Develop them
WHERE TO START?
NGOMPEM, Sanaga Maritime, South West Cameroon, 1st village in SUBSAHARIAN AFRICA 100% ECOLOGICAL and 100% self-sufficient with a 100% PERMACULTURAL design integrating the concept of community cultures (1st AUTHORIZED CITIZATION FOOD BANK of SUBSAHARIAN AFRICA)
An EL4DEV IDEAL CITY to promote the Reforestation of the entire planet.
Stimulating Environment for the Transformation of Consciences and the Development of various innovative ethical and sustainable projects.
A FOOD BANK FOREST CITY for Experimental Teaching to local people and tourists from all over the world on:
human/forest and human/human interdependence (through the systemic approach of the world),
respect for the environment (through awareness),
social responsibility (through reflection and collective action),
sustainable development (through the use of new ethical technologies)
INCREASE THE BIODIVERSITY OF THE FOREST INTENSIVELY
By the creation of a SUBTROPICAL and TROPICAL BOTANICAL GARDEN unique in the world (Floriculture and Arboriculture) immersed in the heart of a private forest natural park and in TOTAL SYMBIOSIS with it
By the practice of Natural Agriculture (or wild agriculture) using the principles of agro-ecology, agroforestry and permaculture, in different plots of this forest/garden - Building instead of Destroying - Growing differently with the trees and the whole local ecosystem, A RETURN TO EVIDENCE - Success guaranteed by the use of PROCESSES
TRANSFORMING THE MINDS AND HEARTS OF EVERYONE
Through the creation of a multifunctional eco-tourist village perched in the trees, in the heart of a MAGICAL and MYSTERIOUS forest leading to INSTROSPECTION, REFLECTION and total WITNESS in the face of the greatness and radiant beauty of nature – SOUL's RENEWAL.
PRODUCING ALTERNATIVELY and BETTER
Produce food (various fruits and vegetables) with extraordinary nutritional qualities - A POLYCULTURE integrated into the host forest, 100% wild stock - A BALANCED and SELF-REGULATING SYSTEM-EXPERIENCE THE FIELD OF POSSIBILITY
Produce a very highly therapeutic honey due to the CONSIDERABLE INCREASE OF THE FOREST'S RICHES and to participate in the sowing of the forest.
A REALISTIC APPLICABLE SOLUTION FOR:
use of the unexploited potential of our forests
A POWERFUL enrichment of their bio diversities
Mass reforestation
Self-sufficiency and food sovereignty in the world
DID YOU KNOW?
According to some sources, the Amazon rainforest, rather than being a wild virgin forest, has been shaped by man for at least 11,000 years through practices such as garden-forest (permaculture technique) and terra preta.
The edible forest garden is the art of imitating forest development with edible plants to return to the Garden of Eden and achieve food self-sufficiency.
EL4DEV promotes the concept in a DOUBLE DIRECTION - (1) Creating Bio-diverse and Edible Forests from Multi-crops (orchards and market gardens) + (2) Transforming natural forests around the world into Edible Garden Forests (Seeding of a wide range of Edible and Diffused plant species).
The edible forest model is very effective in tropical and subtropical climates, but it is possible to reproduce it in other climates (all plants have great capacity to adapt to new environments). It is therefore high time to put an end to the use of pesticides and intensive irrigation.
Although relatively productive from the outset, a true edible forest will only be functional after several years. Unless it is created within an already heavily wooded environment (already existing forest canopy and ecosystem).
Nature is much more productive than the agriculture we practice today, and the natural state of the earth is the forest.
Our food production model is in crisis.
A crisis driven by a toxic agricultural system that impacts us all.
Ecological agriculture is the pillar of a world in which producers and consumers have control over the production of our food, so that food sovereignty is not left in the hands of multinationals.
Nutritious forest gardens have existed for millennia.
The innovation of EL4DEV's experimental pilot project is to take this concept to the next level to achieve food self-sufficiency.
It is a question of transforming all our forests (in the South and the North) into feeder forests without deforestation and without disturbing existing ecosystems.
An EL4DEV ENVIRONMENTAL FORESTRY IDEAL CITY as a global vitrine and driving force for a better future.